Pints ​​and Pups, a first-of-its-kind event hosted by Midwest Communication at Fairbanks Park on Saturday, combined two of the planet's most beloved things — dogs and beer.
"As long as I've been doing radio, everybody loves their pets, they love talking about their pets," said Kevin Lambert, an on-air talent for Midwest Communications and the coordinator of Pints ​​and Pups with Eileen Brown. "And so we thought it'd be a given to do an event that's tailored to the dogs and the adults, as well. What's cool is each one of these tents here is something that benefits the dogs. It's kind of a family thing and to a lot of folks, the dog's part of the family. You can't bring your dog to all events, and so we wanted to make this pet-accessible."
"We put on a lot of events like this — we do Wine on the Wabash — but this has a fun twist and every single time we went out and talked about an event for dogs, people just lit up," Brown added.
Brown hoped that some dogs would get adopted over the course of the event, and to that end, the Clay and Parke-Vermillion Humane Societies had set up a tent with 13 dogs and three very brave cats — one, Mica, lounged insouciantly in a litterbox.
"They're a little nervous, but they're doing pretty good," said Alexus Davis, a staffer for Clay County. She said that Brown had reached out to their shelter and they enthusiastically agreed to participate. "We love to get them out here and seen."
Spending the entirety of her days surrounded by adoptable animals, Davis said, is "very rewarding but physically taxing. It's emotionally taxing, too, because we get attached to them and then they're gone. But it's worth it."
Though there were vendors and food trucks offering groceries for human attendees, Culver's tent just offered free Pup Cups — whipped cream drizzled with peanut butter. Renee and Matt Bilyeu Bernice were manning Culver's tent with their children and Bernice, their Victorian Bulldog.
Pup Cups are available at all Culver's nationwide. "Peanut butter is a dog's favorite treat, and this time of year it's even tastier," Matt said. "We give 'em out all day long at the drive-thru. It's amazing how many cars just come through the drive-thru, sometimes not even for our food, they just want to give their dog a treat."
Biscuits and Bites owner Monica Johnston was offering her own gourmet pet treats for sale. She began her two-month-old business when she took a gainer at the list of ingredients for the treats she was feeding her dogs.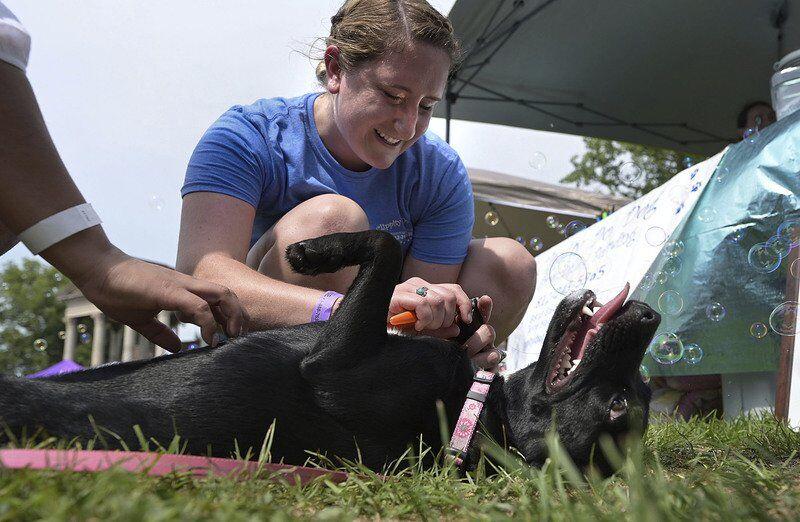 "There were ingredients that I couldn't even pronounce," she said. "Even though I eat trash, I'm not going to feed my dogs those things. So I started doing some research and I love to bake and to make eye-appealing treats. I started baking and testing the treats on my Rottweilers. They passed the doggy test, so we got our dog-treat license and we've been doing this for a couple of months now and we absolutely love it."
Johnston had cookies shaped like hot dogs, s'mores and training treats shaped like ice cream cones. She leapt at the chance to be part of Pints ​​and Pups.
Dogs and beer, she said, "go hand in hand, especially in this weather."
Regan McCarty's dog Barlowe, who was there to interact with other dogs, had received a treat from the Chic-Fil-A booth, but seemed somewhat puzzled as to what to do with it.
"Usually, when you give him treats, he runs into his cage and eats them," McCarty said. But without a crate to nosh within, she said. "He doesn't know what to do."
McCarty got the 2-year-old from the Terre Haute shelter. "We found him on the website and my mom and I just fell in love with him when we saw him," she said. "He's so cute."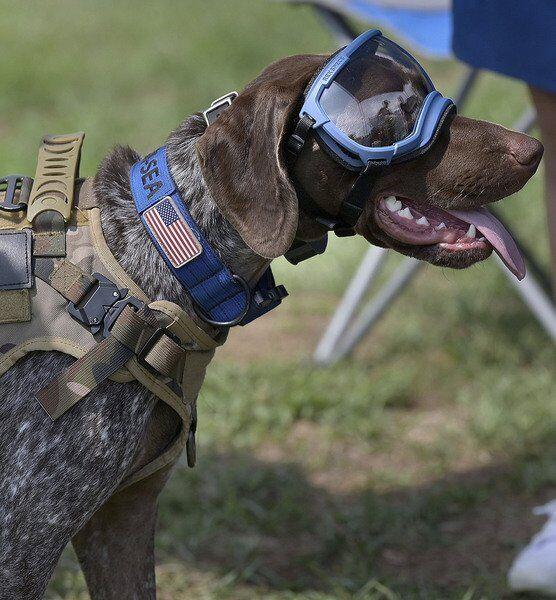 JD Pizzola State Farm offered a prize spinning wheel, where Lorraine Brown won a bandana for her miniature American Eskimo Sparky. "I like doing things with Sparky and doing things with other dogs, too," she explained, adding that she enjoyed watching Sparky frolic with other dogs. "From what I understand, Eskimos are usually not very sociable, but I take him to all the events and everybody pets him and he's very sociable."
Though Pints ​​and Pups featured a concert, as well, with Garth Brooks and Toby Keith tribute bands performing in Fairbanks Park's amphitheater, Brown wasn't there for the music — "We'll just interact with dogs," she said.
Celeste Grimes and her friend Raelee Merryman had driven four hours from Warsaw to attend Pints ​​and Pups. Grimes sported a T-shirt reading, "Be Nice/Drink Wine/Pet Dogs" — pretty much the meaning of life — while Merryman's said, "Fur Mama."
They were there with Coda Shamrock, a 5-year-old Siberian Husky, whom Grimes adopted when Merryman's sister couldn't take care of him any longer. "He's become the love of my life," Grimes said. Coda would "meet new friends, listen to music, and we'll meet other dog lovers, too."
"Coda's probably the best-mannered dog I've ever seen, and this is something you can actually do with him," Merryman added. "They need to do more events for dogs, because they're family, too. Coda loves dogs and beer."
David Kronke can be reached at 812-231-4232 or at david.kronke@tribstar.com.